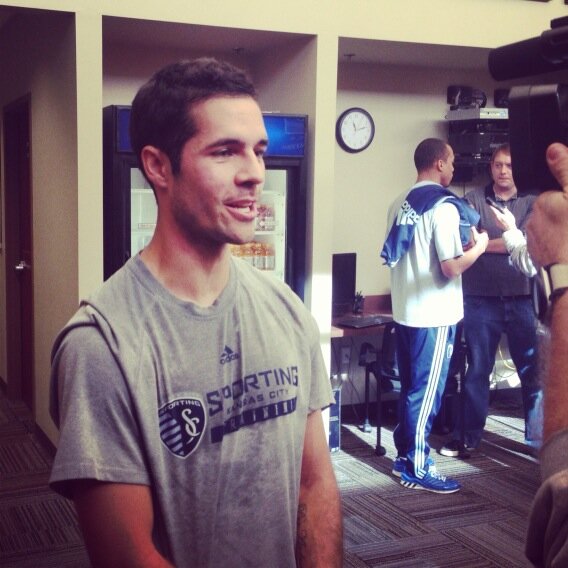 Sporting Kansas City was back at the Sporting Club Training Center in Swope Park today for the first time since returning from the team's two-week stay in Tucson, Arizona on Saturday night. Out of the Blue caught up with three of the guys -- Peter Vermes, Benny Feilhaber and Teal Bunbury -- for three thoughts on the pre-season thus far...

Sporting Kansas City Manager Peter Vermes

On the first phase of preseason...
It was different this year than any other year and I think the reason why is because we had a chance to get to the way we want to play a lot quicker. We had a lot of the same players returning with a couple additions here and there. Trialists, draft picks, it's up to those guys to learn quickly and get acclimated. It's up to them to see how fast they do that. It's been good from the point of view of being able to get to our style of play and trying to give guys the ideas around their roles and responsibilities within the individual positions that they play and then how that ultimately affects the overall group. From that point of view, it's been pretty good. We have a lot of work to do because, we played a lot of games. We're shortened up a little bit this year because of the quick turnaround and the early start to the season. We still have a lot of stuff to cover in the next couple weeks.

On the arrival of Benny Feilhaber after USMNT camp...
Going into this next phase in Orlando, it's going to be really team-oriented and functionally around the position of these guys. It's a good time for him to join us. I see his adaptation period, in regards to getting a glimpse of who we are, pretty quick. And then's it's just working on the details on what we expect from him.

On the team's fitness...
All the guys we brought in, other than the draft picks, we had all those guys come in here and we did an assessment on them and made them leave with a program so they wouldn't be behind the eight ball if you will before they got in. All those guys had a good glimpse of what we expected. It's hard for them to know until they get here but at least they had a program that helped them get a little bit closer like the rest of our guys.

Sporting Kansas City midfielder Benny Feilhaber

On joining up with his new teammates...
It's the first time I've been here so it's exciting to meet a lot of the guys I haven't met and some of the guys I know already, it's good to see them again. It's just exciting to come to a club like this, where it's done so well these last two seasons. We're going to really vying for a championship. It's exciting to be here and I'm just trying to contribute my part now.

On getting acclimated with a new team...
A lot of preseason, in the beginning at least, is about fitness and I think I got a lot of fitness in with the National Team camp. Now it's more about soccer and it's about getting used to the style of play. I know this style is going to be different than what I was used to in New England, but I think there are some similarities still to the National Team. So the three-and-a-half weeks I was there in camp with the National Team will hopefully help with me. I'm sure I'll catch up soon enough.

On his first impressions...
It's just the first day. I was expecting a real class organization that's really organized and full of ambition. That's what it feels like today. It will be exciting once we get to Orlando to be back on the field and playing with these guys. Being with Graham (Zusi) and Matt (Besler) was good. Obviously, I knew Graham from before and it was the first time I met Besler -- two really good guys and really good soccer players. Hopefully they can help us get a win in Honduras, but I'll be happy to see them back in Orlando when we'll all be together.
Sporting Kansas City forward Teal Bunbury

On the status of his rehab...
Being able to run, being able to jog, now working on cutting and some things with the ball. It's all progression and, right now, time is my biggest asset. I basically just started cutting when we first got down to Tucson so probably two weeks ago. I was working with a physical therapist and basically we were working on a lot of leg presses, ladders and things like that -- a lot of straight forward things. It's feeling really good. By the grace of God, He's been giving me strength and I'm feeling really good.

On the timetable for his return...
I'm ahead of schedule. I don't know exactly when I'll be in my first game or anything, I have some ideas in my head of when I want to be back. But Chet (North) keeps referencing Adrian Peterson. He wanted to come back but the doctors were like no, we have to wait for the full eight months. So we'll see how it goes. I'm feeling really good and I'm excited for this next trip down to Orlando to even push myself a little bit more and let's just go from there.

On having to miss the preseason...
Obviously, it was tough because I'm getting ready for preseason. Usually, you're going to be with the team, you're going to be playing 5v2, you're going to be doing possession, you're going to be doing fitness. For me, it was tougher from that aspect. Going down and being with the guys in Tucson, it was great for me to be around the guys and feel a part of the team. For a while, I'd come in at different times then everybody, wasn't playing any games, so that messes with you mentally.